Når en finnmarking er med på Melodi Grand Prix og vinner så er det en glede for oss å presentere KEiiNO som artist i vårt musikktelt torsdag 25.juli. 
KEiiNO vant Melodi Grand Prix med klar margin og låta «Spirit in the sky» var ei halv uke etter finalen fremdeles #1 på iTunes og streamer 150.000 om dagen. På YouTube er låta sett over 2 millioner ganger. Dette var før de vant publikumshjerter under Eurovision Song Contest.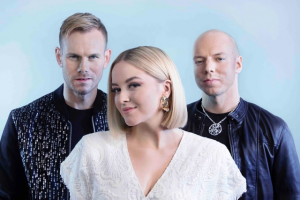 KEiiNO er en norsk-samisk trio bestående av rapper/joiker Fred Bujlo og vokalistene Alexandra Rotan og Tom Hugo. Fred var finalist i Norske talenter med rapduoen Duolva Duottar, Tom har hatt mange A-listede radiolåter som soloartist og Alexandra har både vært med i Idol, MGP 2018 og vært Alan Walkers live-vokalist på turnéer.
Før Kunesdagan skal KEiiNO innom mange shows, tv-opptredener og ikke minst Eurovision Song Contest.
KEiiNO kom på femte plass i Eurovision Song Contest og fikk flest publikumsstemmer skriver TV2 De skriver videre at «Spirit in the sky» var tiende mest populære låta i VERDEN på iTunes og har over SYV millioner Spotify streams uken etter ECS.
Torsdag 25.juli lager KEiiNO show i musikkteltet på Kunes. Kjøp inngang til musikkteltet