Torsdag  27.juli står hun på scenen i musikkteltet i lag med gitaristen Espen  Wensaas.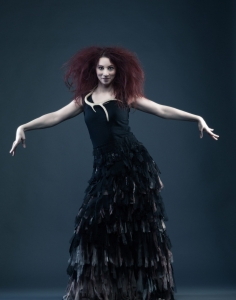 – Når vi får Elin på plakaten svarer vi opp for de som foreslår artister og foredragsholdere for oss, sier Alf Edvard Masternes om Kåvens signering til Kunesdagan.
Den arktiske alven – blir hun kalt, Elin Kåven der slektsnavnet går tilbake til den kjente sjamanen i Sapmi. Vi kan også røpe at Elins farmor kommer fra Laksefjord så det er ekstra stas for oss å få henne til Kunesdagan.
Under den norske finalen i årets Melodi Grand Prix kom Elin i duoen  Elin and the Woods på tredje plass.
Elin har skapt oppmerksomhet for hennes unike sceneuttrykk og dans. I  følge flere musikkjournalister har hun skapt en egen sjanger. Selv kaller hun det Arktisk Folk Pop.
Elin Kåvens musikk ligger i sfæren av samisk folketro og mytologi  knyttet sammen av lydbilder fra både folkehistoriske og moderne instrumenter, sammen med poprock og worldmusic.
Elin har spilt 300 konserter i over 11 land de siste 10 årene,  inklusive Tyskland, Sveits, Latvia, Russland, Japan, Venezuela og  Aserbajdsjan.
Hun har vunnet Samisk Grand Prix, kåret til "Årets Samiske artist  2011» og ble finalist i International Songwriting Competition i USA  med kjendisdommere som Ozzy Osbourne og Tori Amos. Ja, under årets  norske finale i Grand prix ble hun utropt som vinner selv om det ble  tredje plass.
I 2016 ble hennes siste album nominert til "Preis der deutschen  Schallplattenkritik/German Record Critics Award" – en musikkpris  etablert av 127 musikkkritikere i Tyskland.
Hennes tredje soloalbum "Eamirtini-Rimeborn" ble utgitt i Europa i  november 2015 og har fått svært gode kritikker. Den nordiske  utgivelsen var i februar 2016 og i mars 2016 var plata nr 11 på "World  Music Chart Europe".
Ikke glem å kjøpe din billett til Kunesdagan her.