Som navnet indikerer er The Norwegian Creedence et norsk tributeband til Creedence Clearwater Revival og John Fogerty. Selv om bandet bare har eksistert siden 2012 med nåværende besetning, så består det av fire erfarne musikere fra Alta med lang fartstid fra andre band. Bandet har vært på Kunesdagan tidligere og er tilbake fredagskveld 26.juli.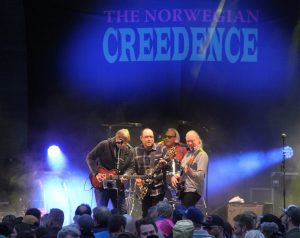 Gutta i bandet vokste sjøl opp med Creedence-musikken og har hørt på den i over 40 år. Alle fire har spilt i diverse andre band hvor det også forekom en og annen Creedence-låt. Men i 2012 kom de sammen og bestemte seg for å danne et coverband som kun spiller CCR/John Fogerty musikk.
Settlista består av ca. 40 sanger fra alle 7 album som CCR ga ut, pluss noe av John Fogerty's solo utgivelser. Mesteparten er fra perioden 1969-1970 hvor Creedence var på sitt mest produktive. På disse 2 årene ga de ut 5 album med bl. annet de største slagerne som «Proud Mary», «Bad Moon Rising», «Fortunate Son», «Have You Ever Seen The Rain». I tillegg til de kjente slagerne var det noen sanger som ikke fikk så mye radiospilling.
En god del av dem bringer The Norwegian Creedence frem i lyset igjen i dag.
Og siden «sjefen sjøl» John Fogerty fortsatt er meget aktiv og kommer ut med ny musikk så utvider også The Norwegian Creedence sin settliste deretter!
Med vokalist Odd Ivar «Fogerty» Johnsen i spissen låter bandet veldig nært orginalen! Og at Creedence-musikken fortsatt er populær viser seg overalt hvor de spiller.
Bandet består av følgende:
Odd Ivar «Fogerty» Johnsen: vokal, gitar
Thor Bang: bass
Per Arne Jøraholmen: gitar
Kai Henning Skimelid: trommer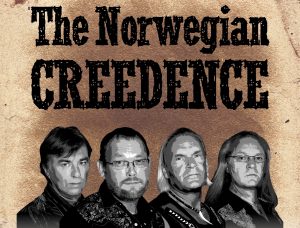 Kjøp inngang til musikkteltet i linken Sett av kvelden til mimring, allsang og dans.
I youtube-lenken kan du se og høre bandet i lag med Norwegians Beatles.